This post is also available in:

Español (Spanish)
Starting December 31st, the State Prosecutor's Office opened a Bilingual Public Prosecutor Office. This is to provide greater security and legal support to foreign tourists...
Moving to Puerto Vallarta... how it all came about was very unexpected and fast. It was one of those moments in life where things...
New year's resolutions... A lot of people say that they hate making them, and I get it, but it is also important to know...
We sit down with the incredible cello and vocal duo, Branden & James! They tell us about their residency in Puerto Vallarta and their...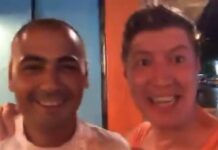 Derek Carkner spoke with Chanan Kamen at the opening of his new establishment, Don Chava Taqueria Cantina. It is located at Lazaro Cardenas 288,...
Fabian Reyes opened Warique (pronounced Wah-Ree Kay) last September and it quickly became a popular destination through positive word of mouth. After years of...
We take you on a tour of the newly expanded Anónimo Bar with Duviel, one of the bartenders.
We interview Paco Arjona, executive director of SETAC, about their services and nine years of service to the community.

We crashed the Crazy Bitches' rehearsal! O&APV Editor Alejandro Chavez talks with the performers about their show. You can watch them perform every Friday at...
We had a quick chat with Mitchell from 'Naked Boys Singing' and he tells us a little bit about the show and that now...

Derek Carkner brings us a live interview at the opening of Cinderella, playing at Act II Entertainment Stages.  Showtimes: November 30 - 7:00 pm December 2, 9, 16,...

TV star Ross Matthews (a regular judge on RuPaul's Drag Race) will be a part of a bigger and more visible Puerto Vallarta pride...